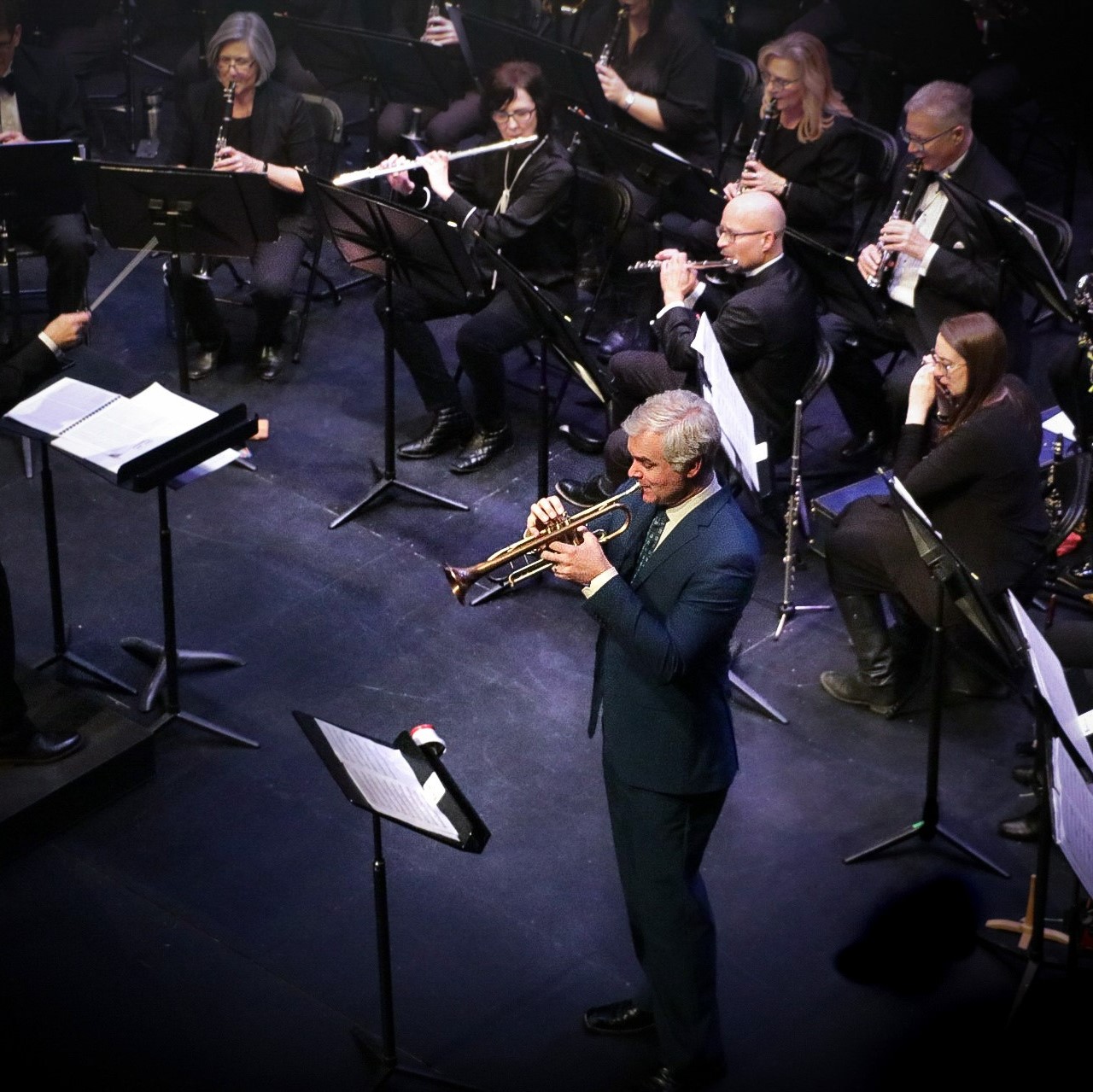 Dean McNeill
Trumpet player/composer Dean McNeill is head of the University of Saskatchewan Department of Music where he teaches jazz and classical performance courses. Dean has received several awards, including the USASK Department of Music's Dwaine Nelson Teaching Award, USASK Teaching Excellence Award, Saskatchewan Jazz Festival's Special Recognition Award, Saskatchewan Choral Federation's Outstanding Administrator's Award, an arranger's award from Downbeat Magazine, and the Queen Elizabeth II Platinum Jubilee Medal (Saskatchewan).
He has been nominated for a Saskatchewan Arts Awards Arts and Learning Award and was a member of the Saskatoon Symphony for 23 years. Dean is the Artistic Director of the Saskatoon Jazz Orchestra and has been involved in the creation of over 16 CDs, most notably six USASK Jazz Ensemble Bumper Crop CDs (conductor), the Western Canadian Music Awards-nominated CDs The Saskatchewan Suite: The Story of Us and The Complete Rebirth Of The Cool (performer). In 2012, Dean was soloist on the Edmonton Winds CD project O Music, that won a Western Canadian Music Award.
Dean has composed and arranged music for symphony orchestra, wind ensemble, large and small brass ensembles, jazz combo, and large jazz ensemble. Crediting much of his success to diligence and strong musical role models, Dean is honored to have shared the professional concert stage with the likes of Jon Ballantyne, Tommy Banks, David Braid, Phil Dwyer, Hugh Fraser, Guy Few, Mark Fewer, Wycliffe Gordon, Kelly Jefferson, Ingrid Jensen, Michael Kaeshammer, Alastair Kay, Bob Mintzer, PJ Perry, Maria Schneider, Denzal Sinclaire, and Brad Turner among others.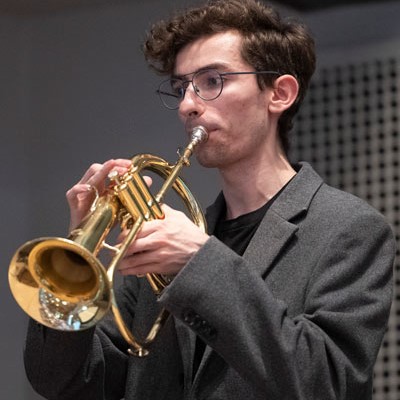 Graeme Dyck
Graeme Dyck is a composer, musician, poet, and developing scholar born in Saskatoon. His work in words and sound often aims, among other things, to explore strange corners of human experience through research and creative practice across disciplinary boundaries. He regularly engages with electroacoustics, improvisation, phenomenology, and textual fragmentation. Graeme has a BMus, BSc. Hon. (Mathematics), and Certificate in Jazz from the University of Saskatchewan and is continuing to a master's degree in music at the University of Birmingham, aiming to reinforce both compositional and research skills.
"…remarkable intellect, boundless curiosity across multiple academic disciplines and artistic fields…" – Dean McNeill on Graeme Dyck.
It has been a great pleasure working with Graeme Dyck in the applied studio and within many class-based and ensemble environments. Graeme's artistic growth as an instrumentalist over these past four years has been astounding. By way of example, Graeme's fourth-year recital was fantastic by many measures. Graeme's strong artistic self-determined ambitions and abilities were on full display as the independent and deep thinker that he is.
In this recital performance exhibition, Graeme utilized many advanced performance practice techniques. He played a wide variety of repertoire. He improvised, wrote and arranged several compositions as well as used – quite effectively – electro-acoustic sound modulating and looping effects pedals in truly imaginative and contemporary artistic ways.
Graeme's remarkable intellect, boundless curiosity across multiple academic disciplines and artistic fields and his plain old-fashioned extraordinary work ethic make him most worthy of this significant recognition.